Program from the
Dedication of Social Quarters of the Friendship Fire Co. No. 1
Bressler, PA
November 17, 1956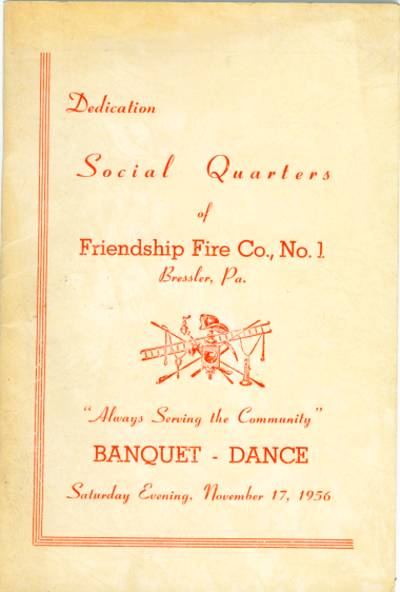 This Program Contains the History of Bressler (originally named New Benton)
Russell Frantz is pictured on Page 3, where the names of the Charter Members are listed.
There are several Frantz's on the list--probably Emanuel Frantz (Levi's father), Levi (Russell's father) and his brothers Elmer and John, as well as Russell and another E. Frantz -- could that have been Effie?
It appears there are women listed--note "Miss Freeland" (probably Cardella Rhen Freeland) pictured on Page 20.
The church and schoolhouse where Evelyn Frantz attended is on Page 5
Elmer Frantz, John Frantz, and John Brunner are pictured on Page 7
Russell Frantz's home at 538 Main St is mentioned on Page 8 as the 1st house to be built in Bressler. This is where Effie and Levi Frantz lived with their children. Russell bought the house after he married Edith Bretz.