Janeen (NeeNee) on her 9th birthday ...
November 27, 2004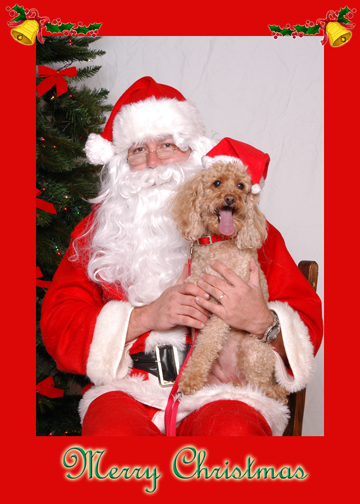 I looooooooove Santa now that I'm 9!
(Picture taken at Malec's by Bob Single... www.bobsingle.com)
The party at NeeNee's house....
Oh yum.....PUPCAKES!

Aunt Anita gave me pizza!
Aunt Elaine gave me TOMATOES! YUM!
I'm 9 with Auntie Elaine & my Mom
That's Auntie Val
Yep, Auntie Anita is telling me something....
Auntie Val knows Just how to pet me....
I'm 9 with Aunt Anita & Auntie Val, too
That's my Ken & My Nancy and I'm washing my toes....

m

Oh boy...THAT's how you should eat a pupcake!

Aunt Anita makes me smile!
Wow...all this for ME?
Yum...Yum...Yum....
I'm a little tired
Parties wear me out sometimes

Maybe I'll take a little bitty nap

Just a little snooze.....

Oh boy, THAT feels good when you're 9....

Wowie.....a PUPCAKE!

Wowie.....a package for me!

The party's over....
Updated 12-04-2004